The Hippie Bowl Formula
Prep Time:
10 to 15 min
Cook Time:
20 to 45 min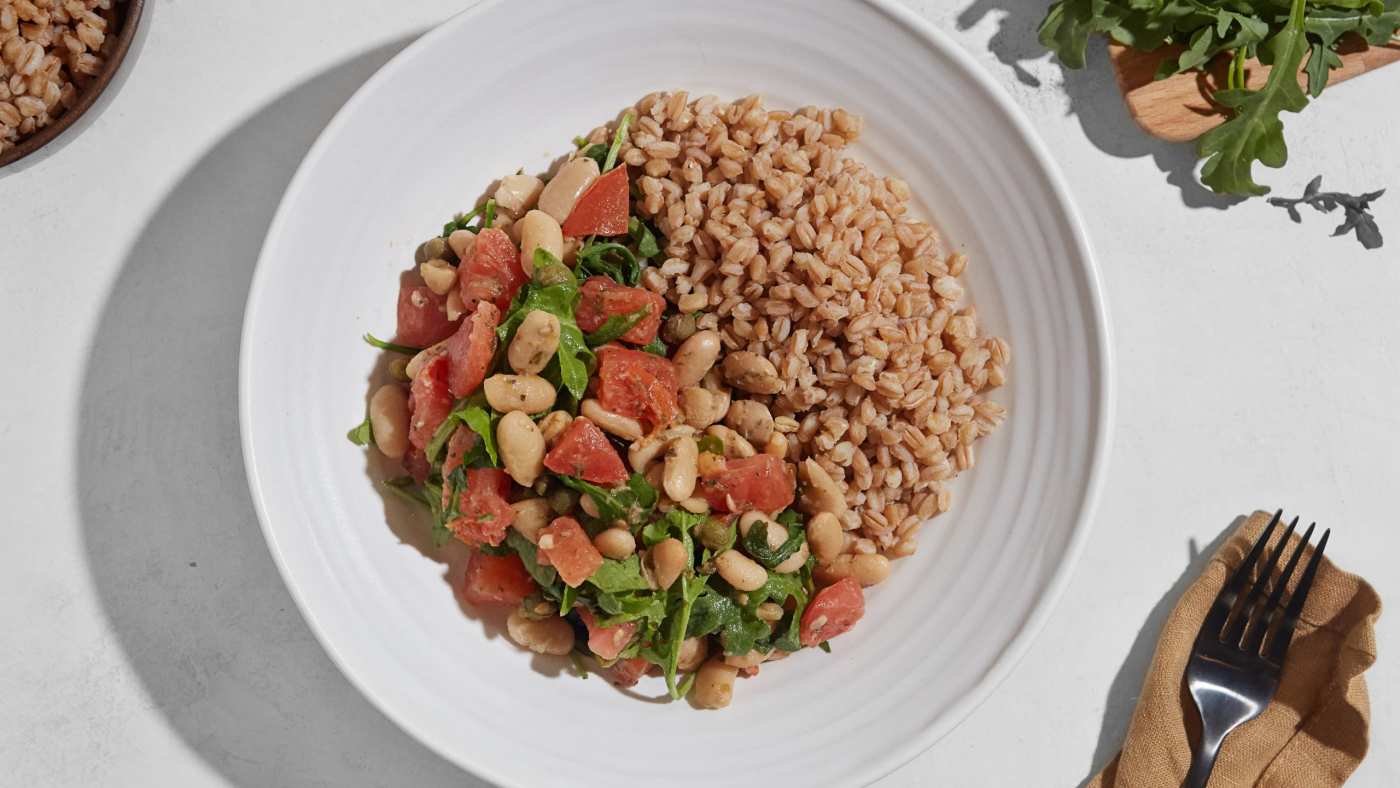 The Hippie Bowl Formula
Prep Time:
10 to 15 min
Cook Time:
20 to 45 min
About this Recipe
The hippie bowl is more about methodology than measurements. The core of each hippie bowl is protein, grains, and vegetables — part of the five vegan food groups, which also include fruit and nuts and seeds. These help provide a balanced and diverse diet. We call this a "hippie bowl," but take the bowl out of your brain; it's a simple formula — have it on a plate, have it in a bowl, have it in a jar. It works at home or on the go. You can even take it with you in a jar for your next flight, when all your food options at the airport are sad, low-nutrition options. This is the perfect way to use batch-cooked grains, potatoes, and beans. Prep over the weekend, then reheat and eat during the week. The formula is outlined here, along with a recipe for farro and cannellini beans with herbed tomatoes. — JL Fields
The Benefits
Farro is a high-protein grain with minerals like zinc that can help in healing wounds and aiding digestion. Capers may control blood sugar, and cannellini beans are rich in protein and bone-boosting calcium. The big helping of raw vegetables makes this a bowl full of wholesome goodness.
A couple of other ideas for your bowl:

Spicy Bowl

Cooked brown rice
Pinto beans simmered in vegetable broth with ground cumin and chile powder
Steamed kale tossed with lime juice
Curry Bowl
Roasted Yukon Gold potatoes
Chickpeas or lentils simmered in coconut milk with spinach, ground turmeric, curry powder, and ground ginger
Ingredients
The Formula
2½ cups cooked grains or roasted potatoes
1 (15-oz/425-g) can of beans, drained and rinsed, or 1½ cups cooked beans
4 to 5 cups cooked or raw vegetablesSpoon the cooked grains or roasted potatoes into bowls. Top with the cooked beans and veggies.
Try This: Farro & Cannellini Beans with Herbed Tomatoes
1 or 2 Tbsp olive oil
1 large tomato, diced
1 Tbsp (9 g) rinsed capers
½ tsp dried oregano
½ tsp dried basil
½ tsp dried parsley
1 bag of arugula, washed and drained
Salt
Freshly ground black pepper
2½ cups (500 g) cooked farro
1½ cups (270 g) cooked cannellini beans
Directions
Step 1

In a sauté pan, heat the oil over medium-high heat. When the oil is hot, add the diced tomato with juices, along with the capers, oregano, basil, and parsley. Stir with a wooden spoon and cook until the tomatoes begin to break down, about 3 minutes. Add the arugula and cook, stirring, until the arugula is wilted, 2 to 3 minutes. Season with salt and pepper to taste. Remove from the heat.

Step 2

Divide the farro, cannellini beans, and tomatoes among two bowls. Serve immediately.