Hibiscus Lemongrass Switchel
Prep Time:
30 min (plus cooling time)
Cook Time:
0 min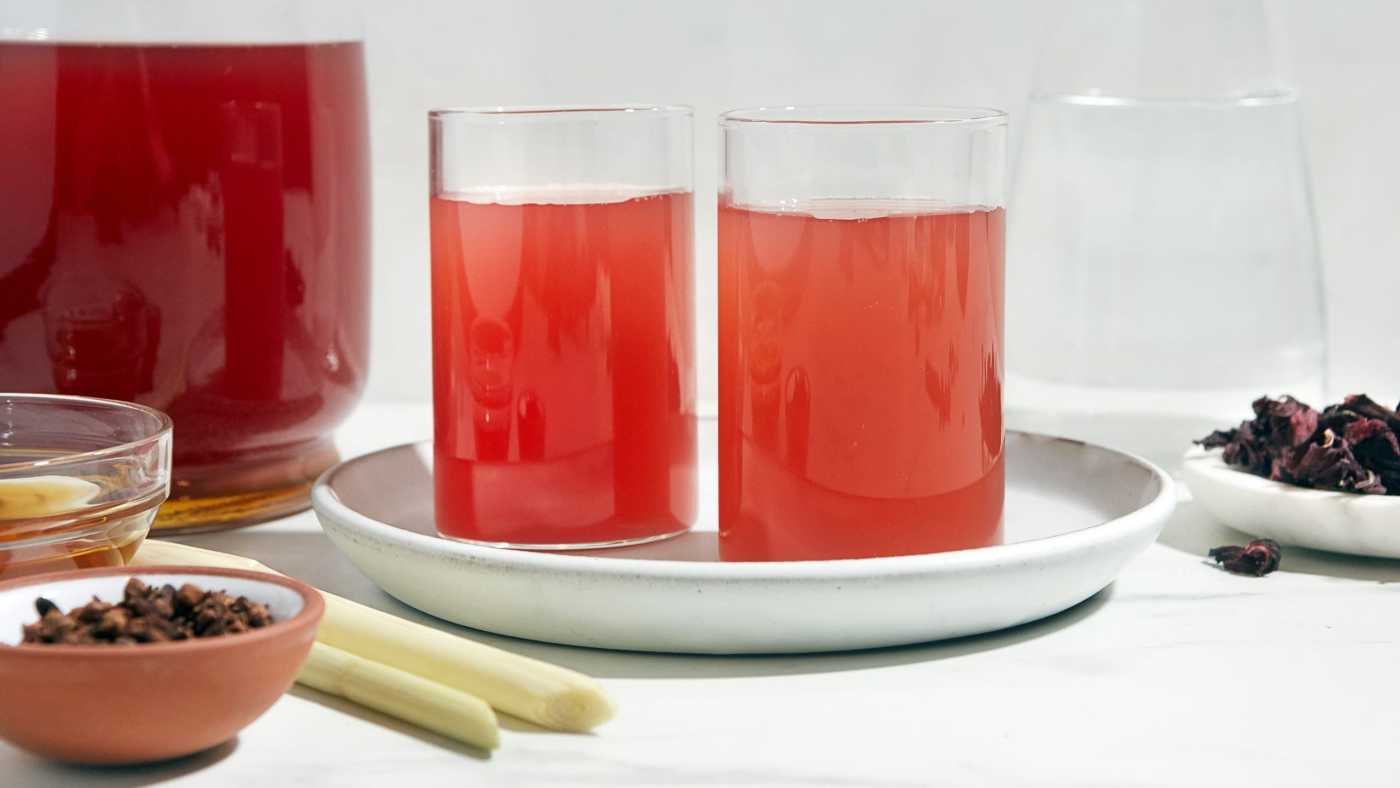 Hibiscus Lemongrass Switchel
Prep Time:
30 min (plus cooling time)
Cook Time:
0 min
About this Recipe
The right foods have a way of grounding us, providing the restoration we need to gain a bit of peace in an often stressful world. I build upon the healing properties found in a traditional switchel recipe of apple cider vinegar and molasses by incorporating ingredients such as clove, cinnamon, hibiscus, lemongrass, and ginger. Apple cider vinegar with "the mother" is apple cider vinegar in its unpasteurized state. "The mother" in apple cider vinegar is a naturally formed microbial culture that contains enzymes, acetic acid (that produces friendly bacteria), and prebiotics. Look for raw honey, which is antifungal and antibacterial. Like apple cider vinegar with "the mother," it contains prebiotics that help nurture the good bacteria in our digestive tract. Use raw honey as your sweetener if blackstrap molasses is unavailable or if you prefer a sweeter tonic.
The Benefits
Rich in antioxidants and good for liver health, hibiscus has been used as a folk medicine in the Middle East, African, India, and the Americas, especially to help reduce or relieve fevers, hypertension, and blood pressure. (It also can cause fluctuations in hormone levels, which is why pregnant women should avoid consuming hibiscus.) Lemongrass contains susbstances thought to relieve pain and swelling and reduce fevers and blood cholesterol too.
Ingredients
About 2 quarts (2 L)
Yield
2 whole cloves
1/2 stick of cinnamon
2 quarts (2 L) filtered water, plus more for blending
1/4 cup (10 g) dried hibiscus
7 oz (200 g) fresh ginger, rinsed, unpeeled, and roughly chopped
3 stalks lemongrass, papery husk removed and thinly sliced
Juice of 2 lemons
Apple cider vinegar with "the mother" to taste
Raw honey or blackstrap molasses to taste
Directions
Step 1

In a medium heavy-bottomed saucepan over medium heat, toast the cloves and cinnamon sticks until fragrant. Break the cinnamon into smaller bits with a wooden spoon and add the water and hibiscus to the saucepan. Turn the heat down to medium-low and allow the spices to infuse the water for 15 to 20 minutes.

Step 2

While the cinnamon, clove, and hibiscus decoction is brewing, make your ginger-lemongrass paste. Place the prepared ginger and lemongrass into a blender with about 1/2 cup (120 ml) water and blend on high until a somewhat smooth paste is formed. (Yes, I am keeping the skin on the ginger because I typically don't peel my ginger. I wash it well with a veggie scrubber and then get to cooking.)

Step 3

Turn off the heat on your cinnamon and clove decoction, add the ginger-lemongrass paste and lemon juice. Cover the saucepan and allow the mixture to cool to room temperature.

Step 4

Once the mixture has cooled and add the vinegar and honey or molasses to taste. I find that equal parts starting at 1 to 2 Tbsp give the brew a good flavor. Strain through a fine-mesh strainer into a large container. Bottle the mixture and store it in the refrigerator, where it should last for about 3 weeks.